ENID TEACH. European Network in D-flexible Teaching
ID de referência:
2021-1-ES01-KA220-HED-000027551
Coordenação:
UNED- Universidade Nacional de Ensenanza a Distancia
Investigadores LE@D:
Ana Paula Afonso, António Quintas Mendes, Lina Morgado, Luísa Aires
Ano(s) do projeto:
2022, 2023, 2024
Estado do projeto:
Em curso
ENID Teach – European Network in D-flexible Teaching
The aim of this project is to re-establish the university network that allows the strengthening of connections between European universities, focusing on the teaching staff as intra- and inter-university anchors which facilitate the constitution of a knowledge transfer network related to good digital and flexible teaching practices.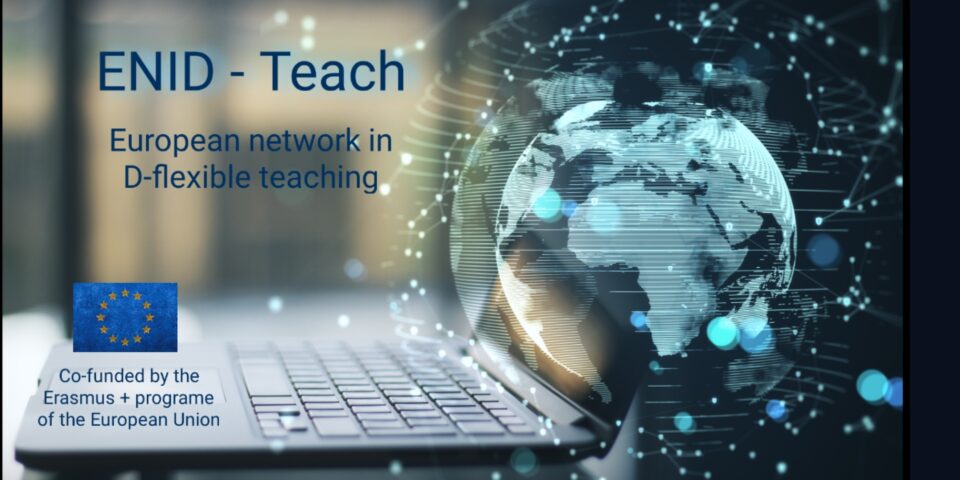 The main objective of the project is the digital training of academics in digital pedagogies, and the involvement of this community in building distributed but cohesive network of cooperation for the exchange of good practices and digital transformation.The specific objectives are:
Objective 1: Reinforce the design and outreach of flexible teaching practices that harness the resilience of university institutions to different pedagogical scenarios and facilitate educational access to disadvantaged groups.
Objective 2: Provide online training to lecturers on flexible digital teaching practices (connected, collaborative and research, active and inverted) and the creation of accessible and inclusive content. To do so, we will harness a methodology based on microlearning (microlessons and Nano Open Online Courses) and on a critical, social, and network pedagogical model.
Objective 3: Cement a model of European inter-university cooperation by creating a cohesive and distributed university network where teachers are posited as intermediary connection nodes (anchors) within and between universities for the exchange of practices in flexible digital teaching methods.
Objective 4: Generate added value for the Erasmus+ program by offering an online training program in innovative digital methodologies that is multilingual (Spanish, French, English, Italian and Portuguese) and based on microlearning techniques (NOOCs). This will shore up lifelong learning and the recognition of official credits, and facilitate educational access to disadvantaged groups.
RESULTS

RESULT 1– http://www.enidteach.eu/the-project/result-1